Order Entry & Payments
Do you have a minimum dollar order?

No! Items only need to be ordered in their sellable units such as one bundle or one case.
Can I set up an account?
Absolutely! We are happy to discuss adding your company account. Please contact us regarding your specific needs.
What are my payment options?

We accept payment via paypal and all major credit cards.
Are my purchases subject to sales tax?

Applicable taxes will be charged on your full purchase unless we have a tax certificate on file. If you have a tax form on file with us you will not be charged tax on any of your purchases unless at checkout you change the tax status of the item to yes. Illinois State tax applies for all products purchased withing Illinois.
Shipping
How will my order ship?

Your order will ship in the most economical way available based upon what you have purchased and your location. In many Chicagoland areas we offer local delivery at a charge or 40$ flat rate – please give us a call or contact us regarding your options. Smaller orders usually ship with UPS. Large orders, such as those requiring a pallet, will use a freight carrier.
When will my order ship?

Most in-stock orders placed before 3 p.m. Central will ship same day!
Returns
Can I return products?
Yes. Items must be in full units and packed in their original packaging in resalable condition. No partial units may be returned for credit. Please contact us for return instructions.
Privacy & Security
Do you share my information?
No. The information you give us is used only for services directly related to your account. Please review our privacy policy and contact us if you have any additional questions.
Is your website secure?

Yes! Order in confidence! We use Veri-Sign 128 bit encryption security and also subscribe to McAfee Secure. To maintain security to your account, never share your password with anyone and make sure to log out of our site and close browser on shared terminals.
How do you measure a box?
Corrugated boxes are always measured as length x width x depth i.e. height. They are measured on the inside, which means the measurements correspond to the inner element of the box. The main reason for having measured inside is to ensure a sheltered and snug fit around the product. Listed dimensions are always inside dimensions. Length being the first dimension, it is one of the longest side of the box that has a flap. The second dimension being width, it is shorter than the length which has a flap as well. Finally, the height dimension and it does not include any flaps.
NOTE:
Acceptable manufacturing variance is +/- 1/8".
Cubic Inches:
L" x W" x H"
Cubic Feet:
L' x W' x H'
Cubic Feet (from inches):
(L" x W" x H")/1,728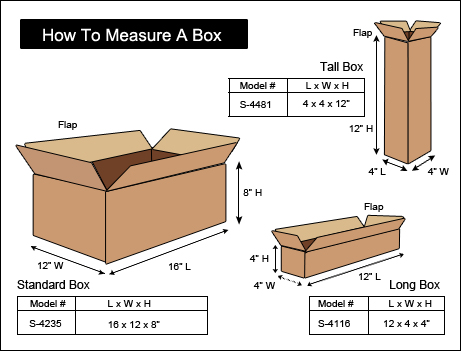 What types of payment do you accept?
USAPackaging accepts the following forms of payment
Master Card

Discover Card

American Express

VISA

Paypal
USA Packaging, Inc
7533 N. Lincoln Ave.
Skokie, IL 60076
How do I track my order?
To track your recent orders, click here. You may be asked to sign in first.
You may also click on "Orders" from your "My Account" page.
My USAPackaging Account
Customer Info
Address
Orders
Change Password
Environmentally Friendly Products
You can click here to view the environmentally friendly products of USAPackaging.net